Rainbow Serving Board

Mashup of Skateboard Veneer & Solid Hardwood
Bottle Opener

Mashup of Skateboard Veneer & Solid Hardwood
Rainbow Serving Board
Mashup of Skateboard Veneer & Solid Hardwood
Bottle Opener
Mashup of Skateboard Veneer & Solid Hardwood
Rainbow Cutting Board | Serving Board
Thoughtfully crafted using a solid piece of maple, cherry, or walnut hardwood. Merging the natural grain flow with colorful layers of skateboard veneer.
POW!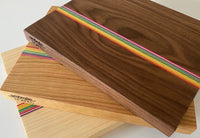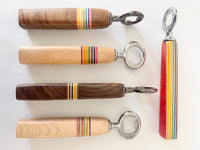 Skateboard Veneer & Hardwood Bottle Opener
Hand carved one of a kind bottle opener from skateboard veneer and hardwood.
BAM!
NEW- Harmony Cutting Board | Serving Board Sets
In art, the tree is commonly used to represent harmony, unity and connections.  Our Harmony Sets are crafted using one linear tree, divided up to spread the love and keep connected.   
Boom!
So unique and fun! We received our board quickly and love it! The board is very well made, a beautiful color, and has a great design for stable, elevated ramekins for an appealing display. To add a bit of whimsy and fun to a happy hour or dinner, as well as contribute to a great cause, this purchase was an easy one!

Maggie L.
Our smörgåsBOARD arrived nicely packaged and in great condition. It looks like how we expected it, clean lines, durable and really functional with the included bowls and dishes. Now just waiting for more cool products from this company. Skål!

Scatt C.
We use our board ALL the time. I thought it would be for special occasions, but we pull it out for lunch, after school snacks, and dinner too. The option to elevate plates, add dipping bowls, and explore plenty of serving surface make it the perfect one stop shop. We've done apps, full meals, snacks and breakfast. It does it all.

Hayes T.